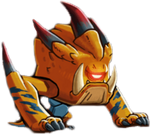 "Control skills can enrage Angry Zilla and make him attack you."
---
Boss Skills
Icon
Skill Name
Skill Type
Skill Description

Fracturing Claw
Attack the ground with a giant claw, dealing physical damage to all nearby enemies and interrupting their attacks.

Loud Screech
Angry Zilla's loud screech makes rocks crumble and fall down on front-row enemies. It deals physical damage.

Impulsive
Become enraged when an enemy uses a control skill. Fight back immediately and deal physical damage to front-row enemies.

Swift Hunt
Gains the ability to teleport for a short duration and join the battle swiftly.
---
Ad blocker interference detected!
Wikia is a free-to-use site that makes money from advertising. We have a modified experience for viewers using ad blockers

Wikia is not accessible if you've made further modifications. Remove the custom ad blocker rule(s) and the page will load as expected.