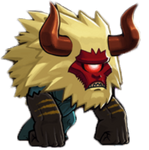 "Keeps getting stronger as the fight goes on."
---
Boss Skills
Icon
Skill Name
Skill Type
Skill Description

Rampage
Releases all of his anger and relentlessly attacks the enemy, dealing great physical damage to it.

Earthsplitter
Slam two fists into the earth, knocking back all nearby enemies and dealing a lot of physical damage.

Destructo Ball
Charge an orb of energy and throw it at the enemy to deal magic damage. Destructo Ball can damage an enemy's body and lower it's defence.

War Cry
Boody Ox absorbs power from nearby spirits and enemies to increase his critical hit. When he defeats an enemy, his attack increases temporarily.
---
Ad blocker interference detected!
Wikia is a free-to-use site that makes money from advertising. We have a modified experience for viewers using ad blockers

Wikia is not accessible if you've made further modifications. Remove the custom ad blocker rule(s) and the page will load as expected.