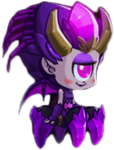 "Mother Lilith's abilities can be a nightmare to the enemy."
---
Boss Skills
Icon
Skill Name
Skill Type
Skill Description

Vengeful Killer
"Can you keep up?" Lilith will randomly attack an enemy 5 times, dealing physical damage every time.

Bloodthirst
Fire a cross-shaped energy strike at an enemy and deal a lot of damage.

Claws of the Brave
Claws of the Brave allows Mother Lilith to deal physical damage to an enemy and absorb its energy.

Blood Mark
When she deals a critical attack, the target will start bleeding and receive additional damage over time.
---
Ad blocker interference detected!
Wikia is a free-to-use site that makes money from advertising. We have a modified experience for viewers using ad blockers

Wikia is not accessible if you've made further modifications. Remove the custom ad blocker rule(s) and the page will load as expected.